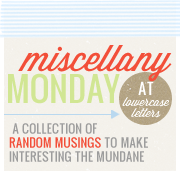 1)
Surprise!
I'm surprised I have time to blog today! Our weekend has been super fun, but super busy!
2)
Football Roundup
- Cody's football team won their game on Saturday! They are doing so well this season! I'm so proud! He had a great tackle that he is calling the "game winning tackle"! We celebrated afterwards with a fun BBQ with his teammates. It's always fun to party with friends and the day just flew by!
3)
Mumfest
- We had a great time with our P'cola family at Mumfest. (Well, minus our hubbies!) Leann snapped THE CUTEST photo of her Alex with Cody! You all must see it! Liam however, spent most of the day sleeping.
Cody playing with his "cousin" Alex
4)
Sleep
- Liam slept through the night for the first time at eight weeks! It might have been one of the happiest moments of my life to have eight hours of uninterrupted sleep! Hoping it continues!
5)
Eight Weeks
- Where does the time go? Liam is now eight weeks old! I cannot believe how quickly he is growing. His new trick is that he laughs when I tickle his belly. It is adorable!
6)
Long Distance Relationships
- They stink! 'Nuff said! Love and miss my husband mucho!